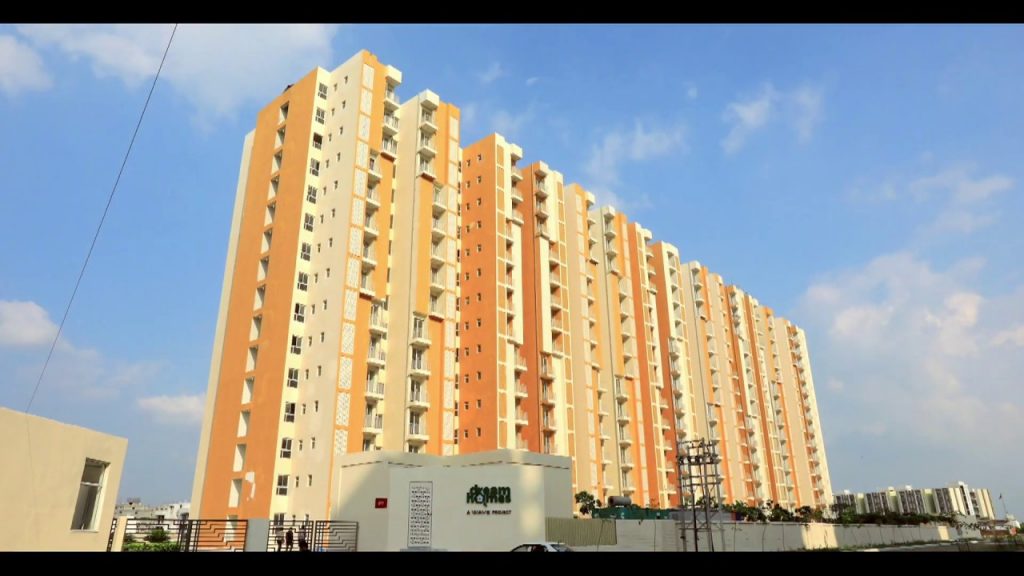 Wave Dream Homes across NH24 Highway, Ghaziabad by Wave Infratech is one of the finest and affordable residential projects. This excellently constructed project houses apartments in the configurations of 2 & 3 BHK apartments thus offering a wonderful opportunity to home seekers to own a home of their dreams. The project spreads across a total area of 25 acres with more that 70% of land dedicated for landscaping and gardening. In this beautifully planned project, each tower houses 14 impressive floors with total of 2400 units with apartments ranging between the size 53.7 Sq. mt and 97.45 Sq. mt. Moreover, owing to meticulous layout planning and built quality, Wave Dream Homes represents futuristic planning to create world class homes for common buyers. Additionally, this residential project comprises of every modern amenity, facilities which is required for a satisfying and luxurious living. Buy flats in CRC Joyous Greater Noida West , Property in Greater Noida and Property in Gaur Yamuna City locations.
Location of Wave Dream Homes
Dream Homes by Wave is one of the most sought-after residential addresses by home seekers which promises to offer best quality of living experience at an attractive cost. Located specifically in Dasna, NH 24, Wave Dream Homes enjoys good connectivity with major roads such as NH 24 as well as Noida Link Road. Dasna is prominently located in the NH 24 which gives it good connectivity with important social and commercial infrastructures of the city. Some of the flourished and popular areas such as Sector 1 Vaishali, Crossing Republic and Raj Nagar Extension are located within few kilometres. Moreover, Wave Dream Homes enjoys great connectivity with popular hospitals, schools, technology parks and commercial complexes in Ghaziabad which gives an opportunity to residents to spend less time on the road and more at home.
Apartments in Wave Dream Homes
Wave Dream Homes nestles in lush green open space and there is a consistent flow of fresh air across every apartment in this project. Designed by expert architects, the homes consist of spacious 1/2/3 BHK flats with sizes in the configuration range of 578 to 1250 sq. ft. Each and every apartment in this project has been developed in sync with flawless architectural features and come equipped with specifications that are well thought out to ensure a fine living experience for the residents. Further, the rooms have been furnished with tiled flooring, cabinets have been used to accentuate the beauty of the master bedroom and doors and windows feature an exclusive finish. Moreover, the apartments have been designed as such to ensure maximum utilization of space for maximum efficiency and excellent ventilation.
Amenities in Wave Dream Homes
Dream Homes by Wave promises to offer a nourishing environment to its residents thus enabling the residents to enjoy a superior living experience. With amenities such as swimming pool, community hall, large open greenspaces and jogging track, clubhouse, gymnasium, badminton & tennis court, Dream Homes presents a perfect opportunity to take community living to an entirely new level. Additionally, the residential society also makes available facilities such as elevators, CCTV, and 24*7 security service to its residents to ensure that residents live stress-free and peacefully in their homes.
Prices of Apartments in Wave Dream Homes
Wave Dream Homes has been developed to present home seekers with an opportunity to buy a home of their dream at a highly affordable price. The price of the 2BHK and 3BHK units in this exclusive residential project varies in the range of 25 lakhs to 50 lakhs. So, if you are looking to own with your name, then you should not waste any time and book your unit now.