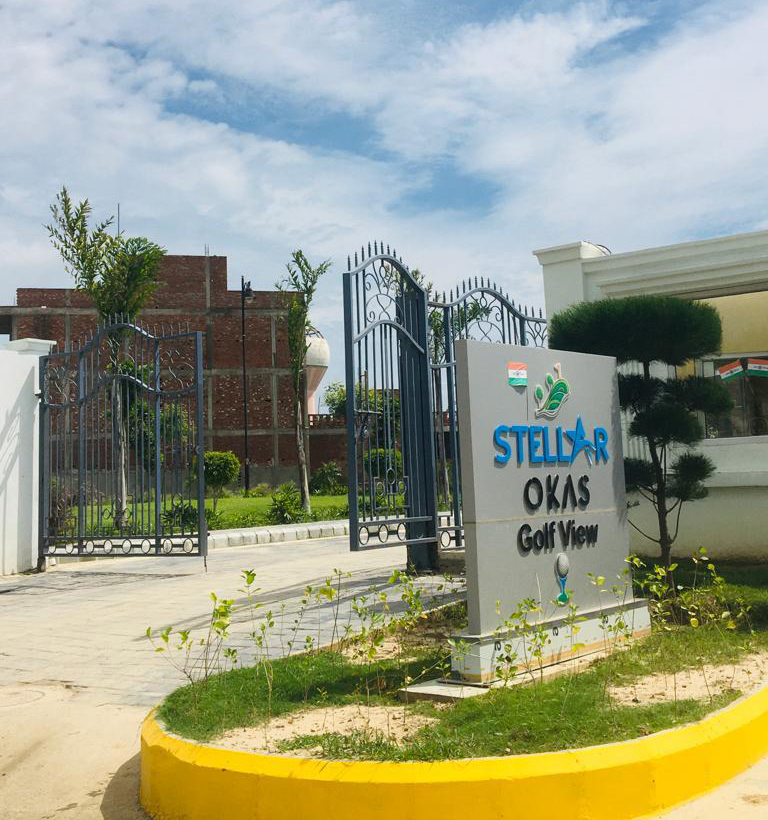 Stellar Okas Golf View gives the capital city one of the most prize possession and get own homes on develop residential pots. The project is at Sushant Golf City, Lucknow and has UP RERA specifications. The residential project comes with plots that has size of 179.32 sq yards to 358.36 sq yards. The project offers an excellent location that is easier to reach with NH-56 as Lucknow-Sultanpur highway. It is also known as Amar Shaheed Path. The project offers with Luknow Development authority approved plots. It thus makes it one of the recognize development and offers hassle free development. The residences here will be approve with all regulations. It will also get the better sewage and water treatments along with well build infrastructure that makes it a development to feel proud. ATS Destinaire Price List / ATS Floral Pathways Price List / ATS Knightsbridge Price List / Ajnara The Belvedere
Stellar Okas Golf View is within prime areas of Lucknow with projects as HCL IT City. It is within close proximity to Amul Dairy Plant, the biggest mall in Lucknow as Lulu Mall. It has Medanta hospital to get better treatment with any medical emergencies. The project is with best of the luxury that designs and build your own homes on the recognize plots. The project gives you an opportunity to get duplex homes with area of 1614 sq ft. It adds with price of Rs 66 lac onwards. The residential plots with 3225 sq ft and it has cost of Rs 1.5 Crore onwards. The project area for the residential project is with 18.29 acres. It has 289 units and the possession on offer is available for buyers.
Stellar Okas Golf View makes the lifestyle fulfill with convenient lifestyle. It has all the necessary developments that makes it with energy management, community hall. It has best of the landscaping and with tree plantation. The development adds with solid waste management and disposal system that adds with hygiene environment. It has necessities like storm water drain and sewage treatment plant. The project is with all the necessary development as movie theaters, hospitals and schools. The project adds with easy commuting as the nearest metro station is Indira Nagar Metro station.
Stellar Okas Golf View has amenities as kids play area, sand pits. It has power backup, 24/7 water supply. The cctv at important places and security that makes the residential development safe and secure. It has beautiful landscape development and with large green area. The residential development gives you the privilege to have gym, internal street lights, jogging track. It adds with car parking for visitors and residents.
Stellar Okas Golf View has all the necessary completion certificate obtain from all authorities. The development makes it one of the promising project that will add with good capital appreciation. Lucknow is the capital city of Uttar Pradesh and has all privileges that includes Lucknow University. It has Ekana Cricket stadium and well develop city infrastructure. The Chaudhary Charan Singh International airport caters to international, domestic routes. The Charbagh Railway station, Lucknow Junction makes it easy railway connectivity. The Lucknow-Delhi highways connects with most part of UP.