Fusion Home Resale is a residential project with 2 and 3 BHK residential apartments at great prices. The residential project gives you premium ready-to-move homes at great prices. The project adds better specifications and a lifestyle that connects with better developments and with all necessities. The residential project gives a better resale option with a project size of 1604 units spread over 8.9 acres. The residential project has 2, 3 BHK flats with an area of 925 sq ft to 2045 sq ft. It has UPRERAPRJ3302 as the RERA number and specification the residences are much sought after. Nirala Aspire Low Rise Price, Palm Olympia Phase 2 Price, Fusion The Brook Price, Fusion The Rivulet Price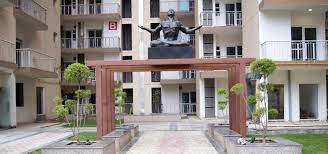 Residential project with resale properties has its advantage both for the buyers and sellers. The resale property gives the seller with good price appreciation. At times the buyer is an advantage as ready-to-move homes are on offer with good prices. The residential project with resale value gets a reduction in prices and is easy to avail home loans too. You also get tax benefits on the resale value of the property. The project makes it a wise decision to buy with the resale property as you get ready to move homes, with all amenities and better specifications.
Fusion The Homes resale makes it a valuable property as it's with developments that offer an area of 1075 sq ft to 2220 sq ft. The residential project has a total of 1475 units. It has ready-to-move homes and resale value gives it one of the hottest property tags. The residential project is with 2 BHK apartments that have an area of 1155 sq ft, 1075 sq ft, and 1100 sq ft. It has 2 BHK with residences that add an area of 1195 sq ft, 1275 sq ft. The 3 BHK apartment has an area of 1430 sq ft, 1470 sq ft, and 1635 sq ft. More spacious 3 BHK apartments with an area of 1810 sq ft, 1680 sq ft.
Fusion The Homes' resale includes premium features and facilities. It has a 130-meter-wide road that connects to the upcoming metro station. The project gives you residences on 3 sides open corner plot. The residential project connects with 12 towers and the tower comprises Ground + 18 floors. It has a total of residences on one floor as 4, 6, or 8 towers. The residential development is 400 meters away from the proposed metro station. It adds a location at Techzone IV, Noida Extension which is a promising location with IT/ITES developments. The project is with 4500 sq ft of restaurants that serve delicacies. The project gives you superior connectivity with Ghaziabad, Noida, and Delhi.
Fusion The Homes resale is for residences by builders that are with huge reputations. It is with comfortable amenities and is safe, affordable and gives you an unmatched experience with a good lifestyle. The residential project covers all needs with better specifications. It offers an earthquake resistance structure as per the codes and practices. It has floors with vitrified tiles with drawings, dining, and bedrooms. There are laminate wooden floors in the master bedrooms and it has anti-skid ceramic tiles within the kitchen, balconies, and toilets.