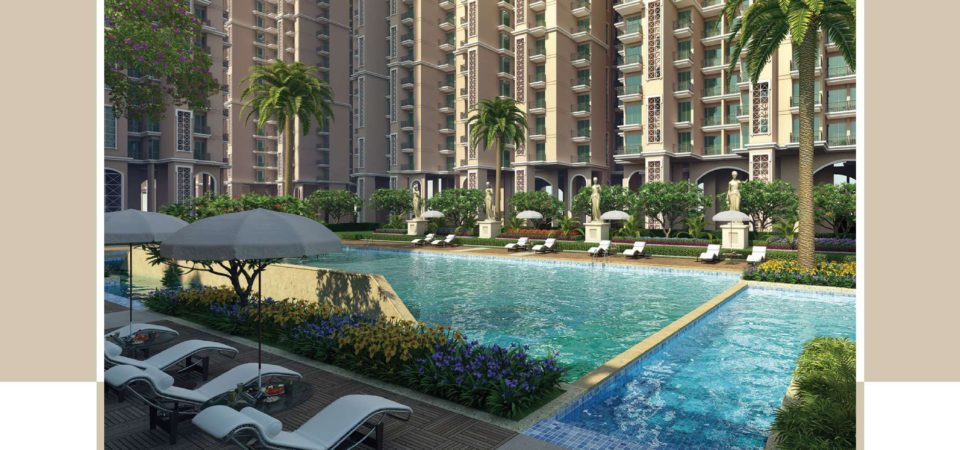 Prateek Grand City is a residential project by Prateek Builders which comes with modern lifestyle, exemplary design and elegant architecture. The project adds with best of the world and comes with good blend of residential amenities. It has best of the specifications with 2 BHK and 3 BHK apartments that adds to comfortable home. The project creates much of a difference with floor plans that varies from 770 sq ft to 1750 sq ft. It comes with 40 acres of township and adds to colonial architecture. There is double height entrance lobby and with thematic garden and high end commercial spaces. Apartments in Greater Noida / Apartments in Ghaziabad / Apartments in Yamuna Expressway
Prateek Grand City adds to double height entrance lobby and has stilt floor with height of 8 meters. It adds to the landscaping with the whole township and adds with magnificent lifestyle that makes it a world class township. It is a project with best of the designs for playgrounds, parks, recreation and many other necessities. It has beautiful commercial space that makes it a project with better utilization and opportunities. The project has club and water bodies that makes it magnificent architecture. It has golf cart to reach any parts of the project with ease. There is abundance greenery and has grand entrance gate with beautiful sculpture. It has kids play area and come with grand entrance gate that makes it look huge.
Prateek Grand City has 2 BHK compact with total area of 770 sq ft. It has 2 bedrooms, 2 toilets, living room, dining room, kitchen with dry balconies and balconies. It has 2 BHK Optima and 2 BHK + Study (Deluxe). The project caters to the needs of homes with 3 BHK Elite, 3 BHK Optima and 3 BHK + Study (Deluxe). It adds to the best of location and connectivity with Siddharth Vihar which is next to Indirapuram. It has NH-24 under construction that will soon develop as 14 lane Expressway. The project has necessity in the form of Metro station, Pragati Maidan and Ghaziabad Railway station. It comes with a central location within Ghaziabad.
Prateek Grand City comes as one of the opulent project with charismatic presence and awesome architecture. The project is well built with RCC frame structure and adds as most demanding area of Siddharth Vihar. The project adds with beautiful and stunning view of skyline and comes with smart features within the homes. It has 2 BHK flats with price of Rs 36.2 Lacs and 3 BHK flats with price of Rs 62.1 Lac onwards. It has fully modular kitchen which adds to your cooking needs. There is huge open area which has swimming pool, chill out, sit out area, garden with exotic plants. It adds with covered car parking that adds safety to your car.
Prateek Grand City adds with club membership, RO and EEC along with power backup that makes your home with 24/7 electricity. It has floor plans with 2 BHK as area of 770 sq ft, 970 sq ft, 2 BHK + Study with area of 1155 sq ft. It has 3 BHK with 1380 sq ft, 1585 sq ft and 3 BHK + Study as 1795 sq ft.