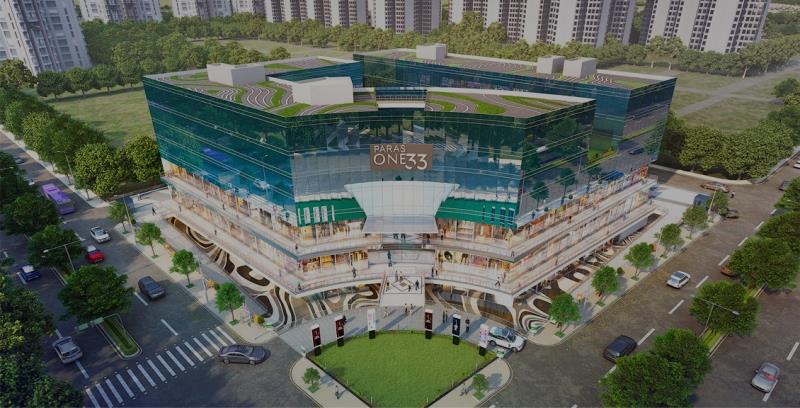 Paras One33 is commercial property which comes as ready to move retail shops, studio apartments and retail spaces. The project is an ideal investment opportunity and with best of the features and specifications adds with elegance. The project comes with an investment at Rs 1.20 Crore onwards. The project has attractive features and specifications that makes it look awesome. It adds with making one of the most modern business place that comes with adding more towards retail business. It has one of the bigger advantage that adds to huge number of footfalls because of the nearby residential apartments. The project fulfills the needs of modern society with good number of retail business owners who find it a comfortable way to stay within luxurious studio apartments. Artha Mart / Civitech Strings / Eros sampoornam Phase 3 / Apex Golf Avenue 2
Paras One33 is on 2 acre of commercial plot and is on 3 side open plot. It is with high-street development that is a new concept which features business where one could do window shopping with ease. The project adds as 5 storey infrastructure and is with great location at Noida Expressway. It connects well with Greater Noida and can be reach easily with FNG Expressway and Yamuna Expressway. It is near to upcoming Night Safari park and also Jaypee Sports City. The project is within few kilometers of recent development as Jewar International airport. It has F1 track near to it and also with close proximity to ICC cricket stadium.
Paras One33 is near to the residents within service apartments. It adds with premium hotel that has more than 100 signature rooms along with food court. It has retail shops which is set across lower ground, ground and also first floor. It comes with shops that has an area of 250 sq ft as retail shop. IT has retail shop with area of 1400 sq ft which makes it ideal for food court, restaurants. It lets you add with many other similar developments that needs good area for business. The project is ideal for business investors who look for long term gains. There is best of the connectivity options. It comes with better connectivity with Sector 142 metro station and the numerous highways adds it easy to get access from all parts of Delhi-NCR.
Paras One33 has amenities that comes with best of the amenities. It has sports amenities as gymnasium. The convenience with power backup, treated water supply, centralize ac along with ac waiting lobby. It comes with high speed elevators, 24*7 water supply. It has 24/7 security, fire fighting systems, emergency rescue and alarms. It has cctv and video surveillance, smoke heat sensors, burglar alarm. The project makes it one of the ideal destination as multi brand retail and high street retail that lets you enjoy with premium specifications.
Paras One33 is a project which has design and concept by Hafeez Contractor. It has 4 levels of retail spaces and includes gourmet hub. There are 5 levels of hotel. It makes with perfect blend of vibrant economic growth that features with high end retail, banquet, hotels all at same place.