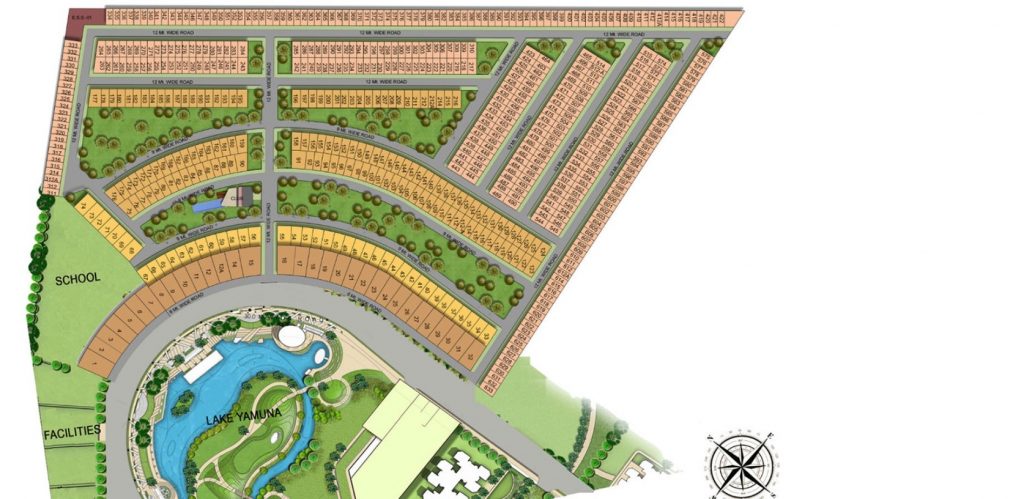 The people who wish to have their homes on their own plots have got some good news as Gaur Yamuna City plots comes with best offers. The project comes at a great time when Yamuna Expressway gets one after another project which will make it one of the most develop regions in India. The project comes with great offers and lets you enjoy with better connectivity via Noida Metro and Delhi Metro. The specified area comes with massive 101 acres of land. The project is well planned and comes as one of the biggest developments at affordable prices. It has Yamuna Lake Park with approximately 32421 sq meter of area that too with boating facility. Plots in Noida / Plots in Gaur Yamuna City / Plots in Delhi NCR
Gaur Yamuna City plots comes with recreational green area that is marked with crèche, school, retail, commercial buildings and more. It adds with huge acres of verdant greenery all around that adds to soothing view. The project connects well with 169 km of Yamuna Expressway that adds fast connectivity towards Agra and Mathura from Delhi. The Noida-Greater Noida Expressway and Lucknow Expressway further connects towards the Gaur Yamuna City plots making it one of the project with maximum expressway developments. The city development by Gaursons is one of the best that makes it an amazing development from all parts of North India.
Gaur Yamuna City comes as one of the best commercial plots on Yamuna Expressway that adds with Gaur Aerocity project within the heart of Greater Noida City. It has come up with immense opportunity as there are developments as office spaces, plots and commercial plot. It further fulfils the needs of buyers and lets them enjoy with best of the opportunities. The project specified gives you one of a lifetime opportunity to select the plot size, area and types of plots. The development comes with best of the amenities that includes landscape gardens, club houses, newly develop and upcoming Jewar international airport. It has clubhouses, cricket grounds, swimming pool, bus stands and much more. It also comes with water treatment plants, garbage collectors, rain water harvesting system and with attractive amenities. It adds as one of the prime location and the plots size ranges with different sizes. The plot area comes with 150 sq ft, 165 sq ft, 180 sq ft, 350 sq ft, 219 sq ft, 500 sq ft.
Gaur Yamuna City has master planning done by RSP, Singapore. It has more than 3000 flats ready for possession in 16th Parkview that makes a great neighbourhood. There is GYC Galleria convenient shopping centre and Gaurs International School. It has India's tallest Statue of Lord Krishna that stands at 108 feet tall atop a temple which is still under construction. It has 4 km road infrastructure in place and 4 villa projects under development. There is necessary development which comes as petrol pump, cultural city centre, milk booth and convenient shops. There are hospital, nursing homes and dispensary, crèche and play school. It will turn out to be one of the best in class project serving the needs of residents.