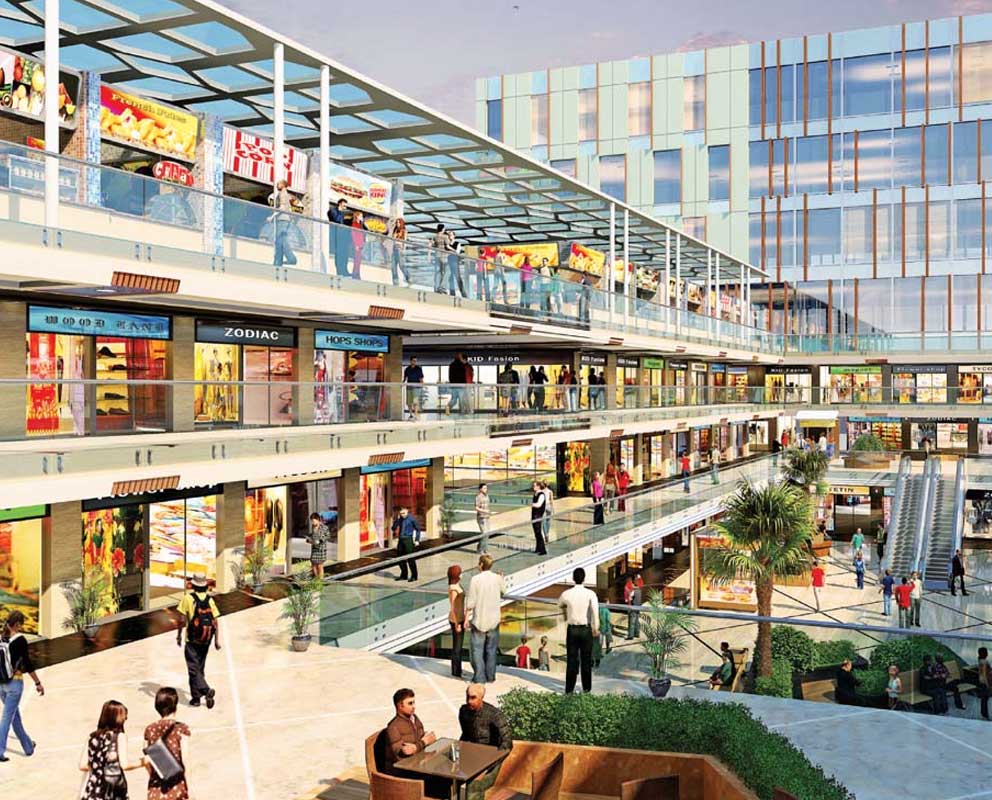 If you are starting a new business or revive your old business in the NCR, you can choose Artha Mart, the high-end retail complex developed by Artha Group in a tremendous 25 acres of land. Artha Mart Greater Noida West is in Tech Zone-IV. Here you can buy retail space from Ground Floor to 2nd floor with shops measuring 20-feet high at ground floor and 13-15 high for 1st and 2nd Floors. This is most contemporary retail development with architecture matching international class build and material. it is a 3-side open plot providing increased visibility to the retail shops and facilities fluent entry in to the mart for customers and owners. It has a 60-meter wide exit road and is located within the campus of IBM. This project has tremendous business prospects as it happens to be thickly populated area and more prospects coming with the rise of the HCL campus.  Artha Mart Greater Noida West , Civitech Strings Greater Noida West and Trident Embassy Reso Greater Noida West are residential apartments project.
Retail outlets thrive on population density and the area Tech Zone IV has it as many prestigious builders are in the process of completing high end luxury residential projects in the area. the Artha neighborhood is 10,000 strong customer base and others will significantly increase the volume and form formidable consumer prospects for your business. The complex is vast and has a number of lifestyle outlets that include food court, decathlon, apparel stores, electronic shops, pharmacy, gym, bank, spa and other consumer oriented attractions. Artha Mart Greater Noida West provides spacious car parking to park thousands of automobiles and the campus is provided with ample green cover via landscaping, water features, and well sculpted entry and exit paths. Car parking is provided both on the ground and inside the basement to accommodate more vehicles. Many international brands are going to figure in the complex and your business can exploit this advantage by investing in a shop or retail space.
Artha Mart Greater Noida West offers shops and retail space measuring from 133.56 sq ft to 1,000 sq ft at a starting price of Rs.28 Lac and above. It is an under construction commercial project which is likely to be commissioned in December 2022. The project connects with NH-24 well and in front of Ghaziabad Noida Highway. It is also well connected with FNG Expressway and is close to the proposed Metro Station at Gaur City area. It will also connect with Central Noida via the new bridge being developed over Hindon River. It is also very close to the upcoming Jewar International Airport and the functioning Hindon Airforce Station. The builders Artha Infrastructure has also ensured that environmental concerns are taken care by inducting sewage treatment, garbage disposal and rain water harvesting. it has both hard and soft landscaping and is conducive for all age group and genre. Being close to Ghaziabad the shopping centre is likely to attract more thousands as the city has large number of customers with huge buying capacity. Overall it will be a lucrative investment if you are interested in expanding your existing business or establish your new venture.